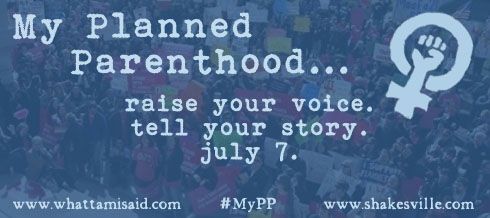 From: whattamisaid.com:
Please join What Tami Said and Shakesville for "My Planned Parenthood," a blog carnival devoted to sharing the stories of the women and men helped by Planned Parenthood of Indiana and other Planned Parenthood branches.
What
Share your personal story of being helped by Planned Parenthood of Indiana or Planned Parenthood in another state. Link your story to why it is important that the organization continue to thrive. We are particularly interested in the stories of Indiana residents, but welcome other bloggers to take part. Planned Parenthood is under attack in states throughout the country, including Kansas, North Carolina and Wisconsin. We need to hear ALL voices.
When:
All posts should be scheduled to publish by 9 a.m. Eastern, Thursday, July 7.
How:
Spread the word about this blog carnival through your blog, word of mouth and social media. On Twitter, use hashtag #MyPP. Post the My Planned Parenthood graphic on your blog and link it to this announcement. (See code below.)
Email whattamisaid@gmail.com or melissa.mcewan@hotmail.com with your intention to participate. Include the name of your blog and it's URL.
Write your post. We may ask you to include a .jpg carnival graphic with information on how to support Planned Parenthood in your post.
Schedule your post to publish by 9 a.m. Eastern, Thursday, July 7. If you can, send a direct link to your post to one of the email addresses above before July 7. What Tami Said and Shakesville will publish the names and links to all participating blogs in a stub post on July 7.
Continue to spread the word and direct people to blog carnival posts.